This site may contain affiliate links for which a small commission is received.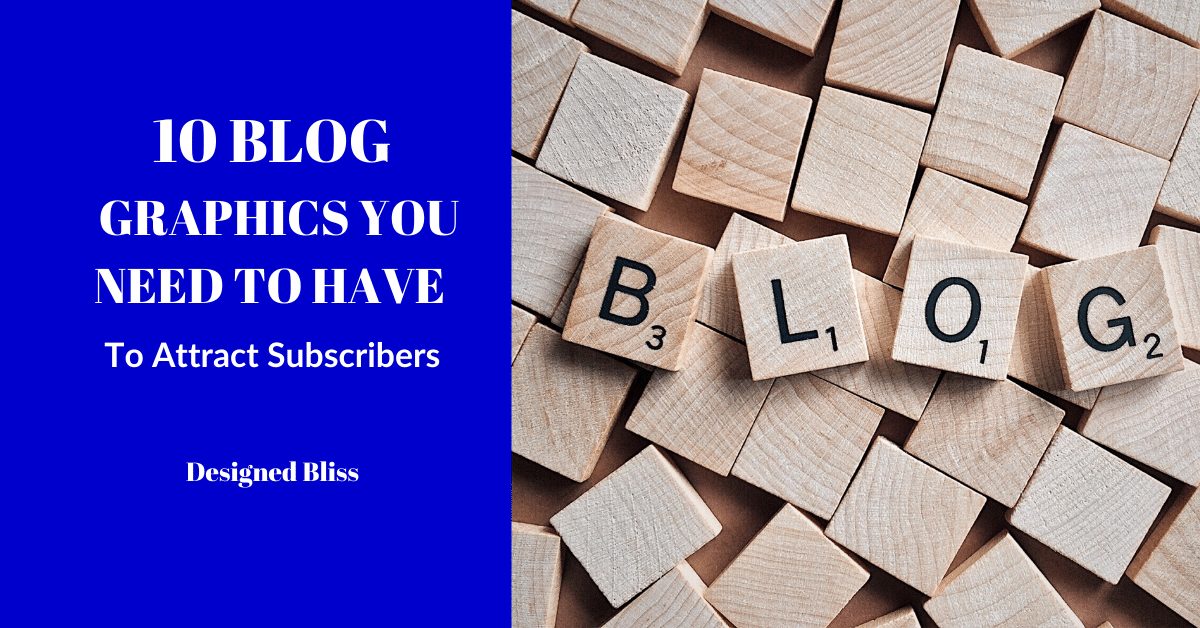 Whether you find, make or create those initial graphics for your new blog or website there are at ten blog graphics you need to have. Yes, content is important but blog images are an integral part of the overall affordable web design you are building or have created.
Great blog graphic help build your brand and allow viewers to instantly recognize your blog graphic, social media images and more. Especially when you consider statistics that show that we retain almost 65% of the visual content we see up to 3 days after seeing it. Bottom line: good blog graphics help your audience remember you. So when you create those first graphics make them fit into the overall graphic design and feel of your blog. The wordpress blog design you end up with will use these 10 blog graphics so let's take a look at them.
10 Blog Graphics For Any WordPress Blog Website
#1 Blog Logo
One of the first graphics to create is your blog logo. Creating a logo that represents your blog and brand identity is essential. Whether you buy your logo, build your logo with online editors, downloadable software or even in a simple program like Powerpoint, your logo represents your blog and brand identity. So take the time to think about what you think your logo should look like.
Consider colors, font and any possible image or icon that might go with your logo. Color is important since any color in your logo should also be incorporated into your blog color(s) choices.
If you are willing, I encourage you to create your own logo rather than hiring someone to do it for you.
You might ask why; well, if you plan on being a blogger you're going to need blog graphics (images, icons, etc) for your articles, about page, sidebar widgets and you might as well start learning how to easily make them for low cost or no cost. So learning to how to make a logo will just get you started learning how to make all your blog graphics.
Plus, making your blog logo isn't really that difficult with all the available online resources, free online editors or powerful downloadable editors. If you'd like to know more just check out articles on my other site that show how to use editors like Canva, GIMP and Inkscape. There's a lot of choices beyond those so you will surely find one that fits your needs.
If you want to learn how to make a logo and then use it for your blog, take a look at my Canva Ninja Quickstart course. You'll get up to speed on creating logos, blending images, and more.
#2 Blog Favicon
A lot of bloggers don't think about the blog favicon but the effort to make one is minimal and it's a nice feature to have. The favicon is that tiny version of your logo (representing your brand) that shows up on the browser tab when your site is visited.
Depending on your site the favicon is 16px, 32px or as large as 64px square.
Once you have your blog logo created, make your favicon by using an icon in your blog logo and reducing it to the appropriate size. A second method is to create a favicon of your blog name initials.
Consider making your favicon in a very large 512 x 512 or 1024 x 1024 image. Save that image and then make a copy reduced to the correct size.
You'll find that depending on the social media channels you subscribe to (ie Facebook, Pinterest, Instagram, Tumbler and others) that large image can be quickly resized to the correct dimensions and used for each social media channel's profile image or in the case of Facebook the square profile photo that sits to the right of the fanpage cover photo.
#3 Blog Header
The blog header is different than the blog logo. While the logo sits within the blog header area, they can in fact both take graphic images, so you may decide to make a background graphic that is used in the blog header. While that isn't required, your blog header is one of the first things a visitor to your blog sees.
So making a blog header and logo that integrates well together is pretty important. You should also consider how any menus or advertisement areas will fit into the style of the blog header that you might use. Too much in the blog header will become a distraction and too little will looking boring.
#4 Blog Watermark
This tiny item is essential to your brand and visual content creation. If you go to the effort to create eye-catching visual content for your blog graphics, posts, homepage and social media, etc then you ought to have a watermark that is recognizable.
Eye-catching visual content with a watermark on it will help readers, visitors and subscribers recognize your content no matter where they find it.
The blog watermark is usually a small semi-transparent version of your logo or favicon and is placed in a corner of your visual content (blog graphic) that you typically put on a blog article or post. Once you have a logo, simply reduce a copy of it and use it as your watermark. Watermarks should be placed on any videos or social media posts you create. It helps potential subscribers and clients recognize the content as yours and ultimately entice them into finding out more about your blog.
5. Article Featured Image (Social Media)
Every blog post or article should have a featured image; at least in my humble opinion. When you create your featured image consider that you're actually creating social media images. Decide whether the featured image is going to be placed on Facebook, Instagram, or Pinterest. Your article's featured image can be used for social media posts, taking into consideration the dimensions of the image and the social media channel you're posting to.
Should you want to post to multiple channels (a highly recommended thing to do), you'll be making that image in multiple sizes according to the requirements for the social media channel you're posting to. It takes minimal effort to do that and worth the weight in traffic and opportunities to engage with your audience. While you can cross-post images because the sizes aren't the same cross-posting your images may end up with cut-off areas that make viewing your image less than desirable. That could result in fewer views and less traffic to your website.
Making the images is quite easy but don't forget to schedule posting them with the appropriate titles, descriptions, links, and hashtags. Each social media platform including Pinterest has its own algorithm for what they want to see and promote.
#6 About Page Images
You might not think you need one but a nice image on your about page can build trust with your subscriber base, plus it simply looks good. Depending on what the website is about, they might want to see what you're all "about". So creating an about page with no images what so ever is not a good way to build trust. While you may or may not be comfortable putting a selfie up on your page, or even a professional head photo shot you can put up images that reflect your "About" page message. It doesn't have to be complex; it just has to be welcoming.
LEARN TO EDIT ANYTHING YOU NEED WITH MY "CANVA NINJA QUICKSTART" COURSE
#7 Contact Page Image
The same thing can be said about the "Contact" page image as with the "About" page. A attractive image makes the Contact page more personal than just throwing up a form and calling it a day. Since there's literally hundreds of free images these days , you should be able to easily find one that fits a contact page and blends into your brand identity.
While you're contact page might not get as much use as your other pages and posts, the fact that you put effort into making it looking professional just reinforces the validity and professionalism of your blog. So make the effort and add in some great visual content here.
#8 Email Images
If you want subscribers, want to grow your blog then having an attractive image in your email widget on your sidebar is a nice touch. Yes, you can make a nice colorful sidebar widget without one and get away with it. Many sites do; in fact I have a mix of sidebar email widgets, some with using just color and some with more elaborate graphic backgrounds. These images are generally under 300 pixels wide.
A/B testing of email widgets is always a good thing if possible. You may find a certain image, color and text message combination attract more users. You may also decide to re-use those email images from your widget into your actual emails. So making images for your email subscription form is no different than making the other blog graphics you need. After you make them, test them. See which ones are most engaging to your visitors and subscribers. You'll get a better feel for what fits into your visual brand and identity.
You may find an email image in a sidebar widget works fantastic on a blog article page but isn't needed on your About page. On the other hand, you may use the exact same email image in a sidebar widget everywhere you need it because it simply works. It all depends on your visual brand.
#9 Sidebar Widget Images
Sidebar widget images have so many uses that it could be a separate article so I'll be brief. You need them. Period. And they don't need to be complex. An effective sidebar widget might just be a thumbnail image with the name of a category for your organized posts. The image presents an easy way for your visitors to find similar information to what they are already engaging with on your site.
Sidebar widget images could also represent individual articles that are popular with your subscribers, or services you offer. These images might also represent products you recommend or sell. And this is just a small subset of what these blog graphics can do. You may be given images to work with or have to create your own from scratch but sidebar widget images can help you monetize your site.
#10 HomePage Banner Images
Most site's home page is not like a typical blog article post page. The home page can consist of banners, sliders, sections with service icons or widgets, embedded email widgets, images and buttons. All of those blog graphics contribute to making the home page engaging and interesting to subscribers.
So take the time to create these blog graphics as part of you overall method of engaging your audience and growing your blog.
Making blog graphics for every visual content need is not hard; you'll use the same online editor(s) to do it and once you've created a couple of graphics the rest will seem like a piece of cake.
Want to know how to make cool graphics using free starting images, icons and illustrations? It's a piece of cake if you take my "Canva Ninja Quickstart" Course. You'll learn the fastest and best ways to make, edit and merge stunning images, blog graphics for everything you need.
Take a look at the course outline here and get started now.
If you found this helpful, consider sharing. Thanks.